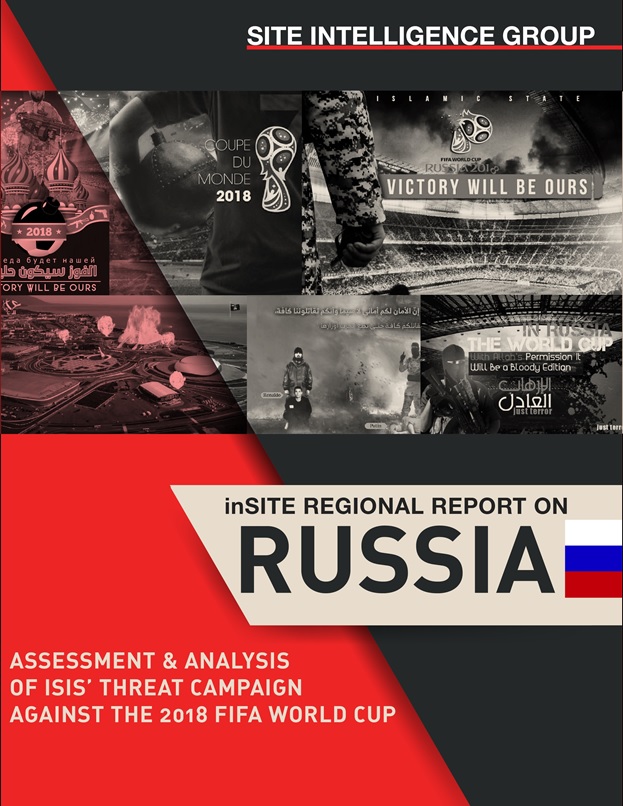 As this past year saw major military defeats against the Islamic State (IS/ISIS) in Iraq and Syria, the group and its supporters have waged a persistent campaign of threats and incitements against the 2018 FIFA World Cup in Russia.
The campaign has spanned numerous languages, including Russian, English, French, Indonesian, Arabic, and others, showing a coordinated effort by the global IS community aimed at Russia, a country considered a primary enemy by jihadists.
SITE has issued over 40 alerts pertaining to threats, incitements, and discussions by ISIS supporters regarding the 2018 FIFA World Cup since October of 2017, a point at which ISIS was newly expelled from its de facto capital cities of Raqqah and Mosul. These instances reported on by SITE were selected from a larger body of threats on various online platforms.
The scope of targets identified within these messages—spanning World Cup players, officials, and attendants in general—show a clear effort to instill fear within a wide array of audiences. Suggested methods of attacks have likewise presented a broad range of options for prospective attackers to adopt. ISIS-linked media groups have also accompanied these World Cup threats and incitements with maps, manuals, tactical advice, and other resources for attackers.
"This isn't solely a grass-roots campaign by Islamic State supporters," says SITE Director Rita Katz. "The Islamic State's central media division directs these types of threat campaigns in response to military and geopolitical developments, and it is abundantly clear that this campaign against the World Cup is a demonstration of exactly that process."
To allow for better assessment of these threats made against the 2018 World Cup, the following SITE report categorizes and explains the aims of posts, videos, and posters issued as part of this ISIS campaign.
Click below to download the report.