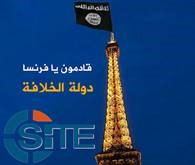 Non-Islamic State (IS) jihadist scholars, fighters, and supporters on social media expressed unanimous approval of the Islamic State (IS)-claimed terrorist attacks in Paris on November 13, 2015, which were reported to kill over 150 individuals.
Reactions did not endorse IS, but condoned and celebrated the attacks against France as justified.
Ehsanullah Ehsan, the spokesman for Tehrik-e-Taliban Pakistan (TTP) offshoot Jamat-ul-Ahrar, tweeted of the matter: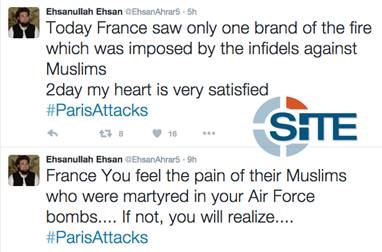 Prominent pro-al-Qaeda (AQ) jihadi ideologue Abu Muhammad al-Maqdisi took the attacks as an opportunity to condemn France's treatment of Muslims and history of colonialism:
France is the land of liberation even from clothes, but its freedom exempts the Hijab of the Muslim women.
France is the land of culture, that's why it invaded Algeria and banned Arabic and exterminated two and a half million Muslims.
Jihadi fighters and supporters also made similar statements to those made by scholars and group officials. The Twitter account of "DMIS," standing for "Dutch Mujahideen in Syria," tweeted a text-based image commenting on the matter. The message identified IS as a "deviant sect," but still embraced its attack. It stated in part:
Concerning the claim by ISIS that they were behind the attacks in Paris yesterday:
We are happy if a deviant sect successfully executes an operation against the Kufaar, but we are happier if Mujahideen from Alh Sunnah with a sound Manhaj execute such operations.
"Abu Saeed al-Halabi," a Dutch fighter with the Nusra Front (NF), tweeted that the Paris attacks are a "small incident" compared other places in the world:

The Twitter account of "Abu in Sham," an alleged jihadi fighter associated with jihadi opposition group Jund al-Aqsa, stated in two tweets:
Just came online, Seems I missd the fire on #Paris
These attacks are understandibly a retaliation to #France's aggrssion on Muslims around
Its normal fr attacks like these to just increase if countries like #France and others dont stop invading and attacking Muslims
"Sabiq Jihadmal," an alleged fighter with the Afghan Taliban, stated that the Paris attacks were vengeance for its participation in the war on terror: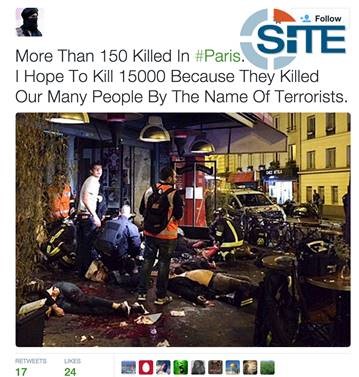 Praise for the attacks also came from Somali jihadists aligned with al-Qaeda (AQ) affiliate, the Shabaab al-Mujahideen Movement. The Twitter account of "Hammam Almekdha," a pro-Shabaab jihadi in Somalia, tweeted IS' claim for the attacks and stated of IS in part, "you healed our hearts even though we disagree with you":