White Nationalists Celebrate Trump's Call for Proud Boys to "Stand By" During Presidential Debate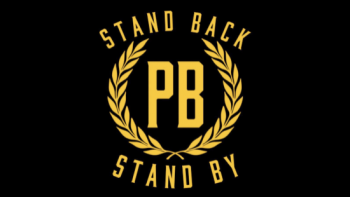 Following United States President Donald Trump's refusal to condemn white nationalist groups and a subsequent call for the violent nationalist group Proud Boys to "stand back and stand by" during a presidential debate, white nationalists embraced the quote as a slogan and celebrated the apparent endorsement from the president.
Within minutes of the incident during the September 29, 2020 presidential debate, Telegram channels affiliated with the Proud Boys, its local chapters, and other members of the far-right across multiple ideologies and platforms responded enthusiastically.
A Telegram channel affiliated with the Proud Boys national leadership misquoted Trump, announcing that they were, "Standing down and standing by sir." In a subsequent post, they shared a graphic from a Proud Boys local chapter which embraced the correct quotation as a slogan. In a Telegram group chat for Proud Boys members and supporters, group member "LO" elaborated on what they believed was implicit in Trump's command:
Stand back and stand by for when the commies start a full escalation of war and he can call on us to essentially "let loose the dogs of war"
Another channel associated with the Proud Boys took similar meaning and went as far as calling on members of the group to proactively attack antifascist protesters. "Fuck it, let's go back to Portland," read the post.
Evoking another recent site of political violence, the Telegram channel "A88" evoked the 2017 Unite the Right rally during which one antifascist protester was killed, saying:
Chris Wallace puts it to Trump to condemn "white supremacists"... of course. The Jew works for FOX News but he closes ranks with the far left when it comes to making sure Trump distances himself from white nationalists.
Anyone who was with me at Charlottesville... you should be proud, we did that three years ago and we are still in the news, still dominating the national conversation.
"STAND BACK AND STAND BY … SOMEONE HAS TO STOP THESE FAR LEFT RIOTERS," read a post on the far-right 4chan board "Politically Incorrect," AKA /pol/. Several posters on the same thread described their suburban communities, which have been regular targets of pandering from Trump, as having been radicalized and "locked and loaded, ready and waiting" to follow the president's lead. "I live in the suburbs, my neighbors are one riot away from turning into a RWDS," or 'right wing death squad.'
On the right-wing social network Parler, prominent Proud Boys ally Joe Biggs interpreted similarly violent overtones in Trump's remarks. "Trump basically said to go fuck [protesters] up! this makes me so happy," Biggs said.

Proud Boys chairman Enrique Tarrio was also discussing the event on Parler, posting that he was "standing by sir." Still, Tarrio hesitated to consider the president's comment a formal endorsement and rejected debate moderator Chris Wallace's characterization of the group as a white nationalist organization.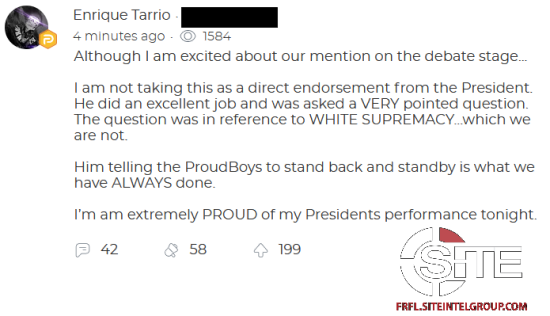 For some on the far-right, Trump's statement marked a shift in opinion regarding a president often deemed "anti-white" by hardline racists. "Damn… hate to say this but im voting trump now," read one 4chan post. In a similar vein, the neo-Nazi channel "OV" published a graphic invoking Trump's quote glorifying the Proud Boys. Such an ideological bridging is somewhat novel, as the neo-Nazi far-right tends to view the Proud Boys with skepticism and derision for being ideologically impure and not explicitly anticapitalist.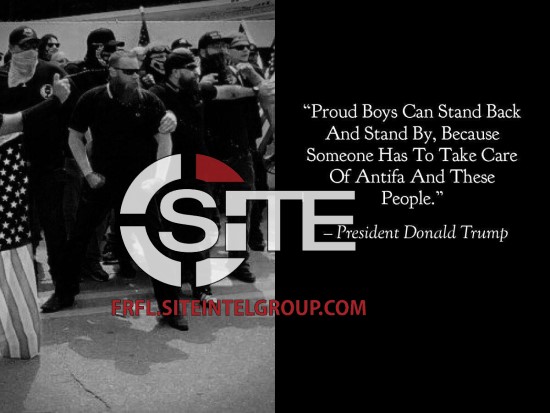 On Facebook, a user in a QAnon group seemed to respond to Trump's comments and overall debate performance when he said that "POTUS is fighting tooth & nail for you," indicating the reach of the debate throughout the entire far-right community.