Chechen Brigade Claims Operations against Russian Patrols on Syria's M4 Highway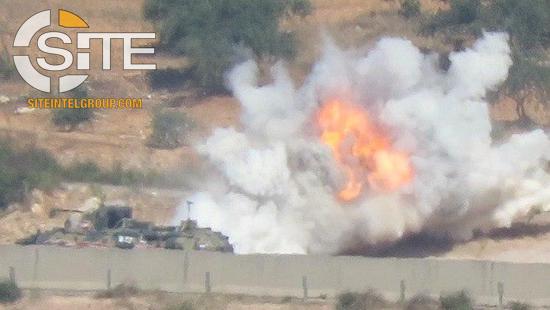 Calling Syria Russia's "hell", a Chechen brigade issued two claims accompanied by photos of an IED detonation and a suicide operation targeting Russian-Turkish joint patrols along Syria's M4 highway.
Following videos circulating on Telegram of a car bomb targeting the Russian-Turkish patrol on the M4 on July 14, 2020, a group identifying itself as the Khattab al-Shishani Brigades issued photos of the explosion and claimed responsibility for the operation. Several soldiers were injured when the car bomb detonated damaging a Russian military vehicle with the Russian air force retaliating with airstrikes in the region.
Declaring Syria the "land of martyrdom", the claim acknowledges the attack was a suicide operation, possibly an SVBIED. The operation was also announced to be a part of what the group calls its "And Heal the Breasts of a Believing People" Battle.
The video of the blast can be viewed here:
http://sitemultimedia.org/video/SITE_KhattabShishani_Jul14_2020.mp4
The group also issued a claim of an IED detonation on June 16 targeting another Russian patrol vehicle on the M4. The vehicle was damaged and the joint patrol had to withdraw. The group promised the IED attack was a "warning" and the next operation would be worse:
Your brothers in the Khattab al-Shishani Brigades targeted a Russian vehicle with an explosive device, which damaged it near the al-Qiasat area and forced the joint patrol to go back.
The Russians and their henchmen understand only the language of blasting and bombing. This came as a warning, and the next one is worse.
Syria is the hell of the Russians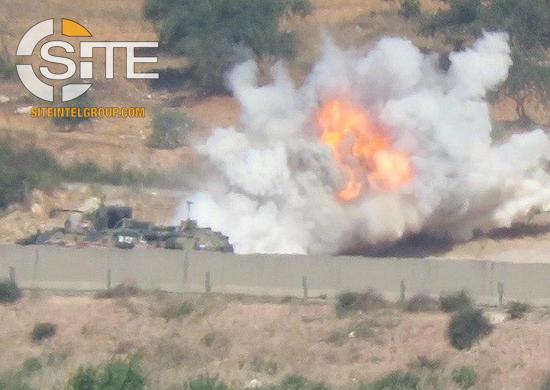 Photo from the June IED Claim (June 16, 2020)
An English translation of the July 14 claim and accompanying photos are available below:
"And Heal the Breasts of a Believing People" Battle
Soon, the details of targeting the joint Russian-Turkish Crusader patrol on the al-Karama M4 Road.
And humiliation was never our ally one day and it will not be, and treason was never our guard one day, and it will never be, not here, we will not be abused or humiliated.
The courageous knight pledged and said:
I will not bend until the skulls
pass by the wind of the m4 and whisper
Today, our knight is setting at the table of negotiation to place his signature in blood, flame, iron, and fire, saying with his blood:
Here is the land of Sham, here is the land of Companions, here is the land of martyrdom, here is faith, here is honesty, here is steadfastness, here is loyalty and innocence, here is pride here dignity and there is not pride or dignity for the Mujahideen if the Crusaders enter our land ..,
If dusk of darkness comes, and we were bitten by the teeth of a glutton
And our homes were bursting with blood, and the oppressor approaches
And from the fields disappears the shine of the teeth and horses
The rhythms of musical instruments and drums became louder
Then our storms blew and say clearly
We will not stop the raids until you leave our quarters
"And Allah has full power and control over His Affairs, but most of men know not." (Yusuf, 21)
Your brothers in the Khattab al-Shishani Brigades
Syria is the hell of the Russians