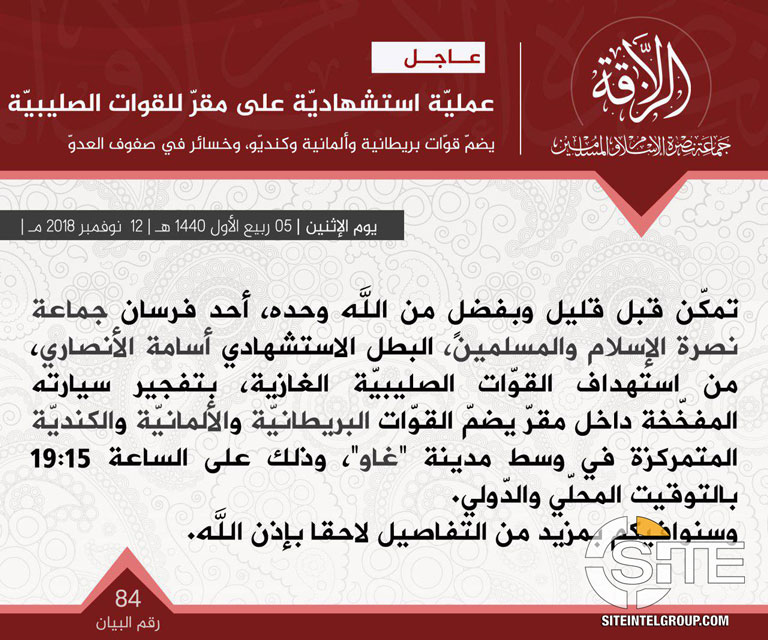 Jama'at Nusrat al-Islam wal Muslimeen (JNIM), the Mali-based branch of al-Qaeda (AQ), claimed a suicide bombing on a headquarters of foreign forces, including Britons, Canadians, and Germans, in Gao.
In a communique issued on November 12, 2018, the group declared that a fighter detonated his vehicle-borne improvised explosive device (VBIED) inside the headquarters. It did not provide additional details, but indicated a follow-up report is forthcoming.
Following is a translation of the message:
Breaking: A Martyrdom-Seeking Operation on a Headquarters of Crusader Forces
Consisting of British, German, and Canadian Forces, and Casualties in the Enemy Ranks
Monday | 05 Rabie al-Awwal 1440H | 12 November 2018M
Shortly before, and by the grace of Allah alone, one of the knights of Jama'at Nusrat al-Islam wal Muslimeen, the martyrdom-seeking hero Usama al-Ansari was able to target the Crusader invader forces through detonating his explosives-laden vehicle inside a headquarters consisting of British, German, and Canadian forces, based in the center of the city of Gao. That was at 19:15 local and international times.
We will provide more details later, Allah permitting.