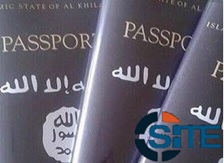 Users on a pro-Islamic State (IS) Telegram chat group discussed the prospect of exploiting Teaching English as a Foreign Language (TEFL) programs as means of migrating to IS territories.
Telegram user "Abu Muhammad" suggested the idea on August 21, 2017 to users on the "Dabiq" chat group, which held 225 members as of that day.
Acknowledging the difficulties of gaining migration "contacts," the user suggested that prospective migrants obtain a TEFL certificate as an alternative method:
But....
If you get certified as an english teacher
That's like a free pass to go anywhere in the world
You can get the certificate
Online
It's called TEFL
He later followed up:
If you get the TEFL certificate
You can fly to a country near your desired wilayah [Province]
And then even though you are still waiting
You are a lot closer to your wilayah so when the oppurtunity opens up you are right there to jump on it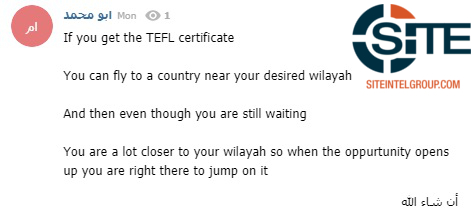 Abu Muhammad claimed that prominent British IS recruiter Omar Hussain ("Abu Sa'eed Al-Britani") suggested the idea to him.
Abu Muhammad offered those interested in the idea to message him privately, and provided a link to a webpage listing the "best online TEFL courses."
After one user asked Abu Muhammad if his suggested method could apply to reaching the besieged city of Marawi in the Philippines, he replied:
I am not sure
You can teach in a nearby country
Like indonedia
Or taiwan
In fact those asian countries will hire anybody
Maybe you can even get a job in phillipines in a different city from marawi
Copies of selected messages follow.
[Abu Muhammad]
Ikhwa
Can I suggest something to you all?
[Abu Muhammad]
We all hope for hijrah, and or operations
So as for the hijrah bit
It might be hard to get contacts
And all of that
But....
If you get certified as an english teacher
That's like a free pass to go anywhere in the world
You can get the certificate
Online
It's called TEFL
[Abu Muhammad]
And then in a lot of counties
[Abu Muhammad]
You don't need anything except the certificate
[Abu Muhammad]
And 90% people who teach in different countries do it as a first job
Not even any experience
[Abu Muhammad]
If you get the TEFL certificate
You can fly to a country near your desired wilayah
And then even though you are still waiting
You are a lot closer to your wilayah so when the oppurtunity opens up you are right there to jump on it
[Abu Muhammad]
Abu saeed al britani told me about this idea actually
[Abu Muhammad]
If any bros want more info on TEFL message me
[Abu Muhammad]
https://www.goabroad.com/articles/tefl-courses/7-best-online-tefl-courses
This is a list of TEFL courses
Best on internet supposedly
[Abu Muhammad]
I must point out though
To reach in turkey you technically need a bachelor's degree for a work permit
But at least 50% of schools have foreigners teaching illegally without degrees and/Or permits
Teach not reach
Plus they will most likely accept a fake degree
So get a friend who is good at Photoshop to help you if you decide to fake a degree
[Abu Dujanah]
Whats the situation for Philippines
[Abu Muhammad]
I am not sure
You can teach in a nearby country
Like indonedia
Or taiwan
In fact those asian countries will hire anybody
Maybe you can even get a job in phillipines in a different city from marawi