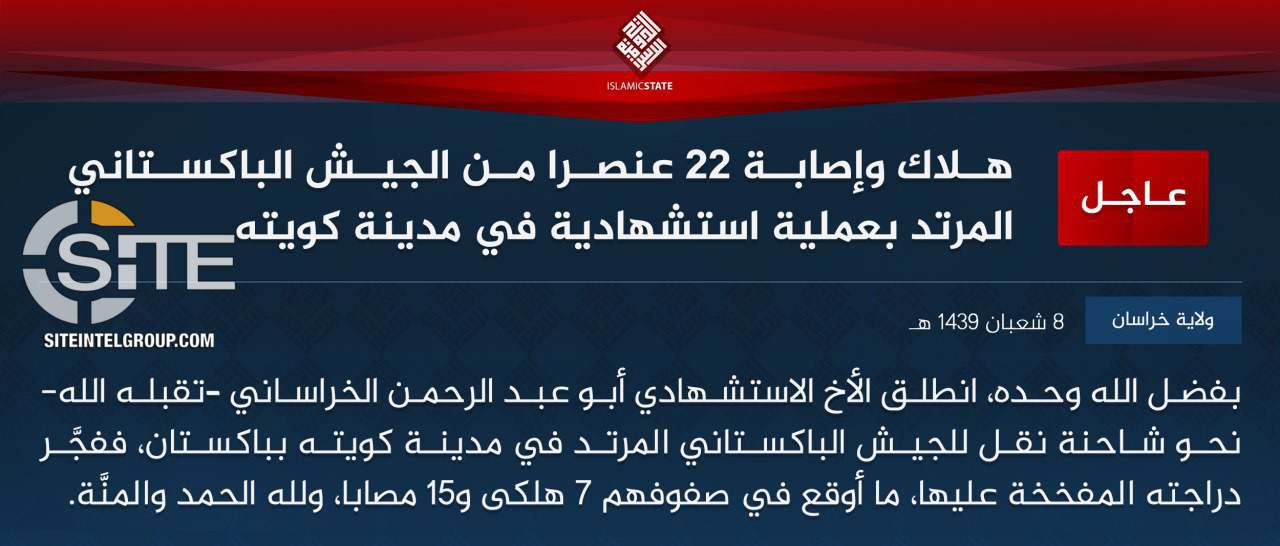 The Islamic State's (IS) Khorasan Province and the Pakistan-based Hizb al-Ahrar gave competing claims of credit for a suicide bombing in Quetta.
The claims from the respective groups were published on Telegram on April 24, 2018. In its message, Khorasan Province reported that a fighter named "Abu Abdul Rahman al-Khorasani" detonated his explosive-laden bike on a Pakistani army truck, killing seven soldiers and wounding 15 others. Separately, Hizb al-Ahrar, a group that separated from Tehrik-e-Taliban Pakistan (TTP) Jamat-ul-Ahrar, took credit for a twin suicide bombing and another suicide bombing on Pakistani forces the same day.

Following is a translation of the IS' message:

Islamic State

Breaking: Killing and Wounding 22 Elements from the Apostate Pakistani Army in a Martyrdom-Seeking Operation in the City of Quetta

Khorasan Province
8 Sha'ban 1439H

By the grace of Allah alone, the martyrdom-seeking brother Abu Abdul Rahman al-Khorasani - may Allah accept him - set off towards a truck of the apostate Pakistani army in the city of Quetta in Pakistan. He detonated his explosive-laden bike on it, inflicting in their ranks 7 killed and 15 wounded, and unto Allah is all praise and gratitude.
pdf SITE Intel Group 4 24 18 ISK HA Competing Claims Quetta SB (124 KB)