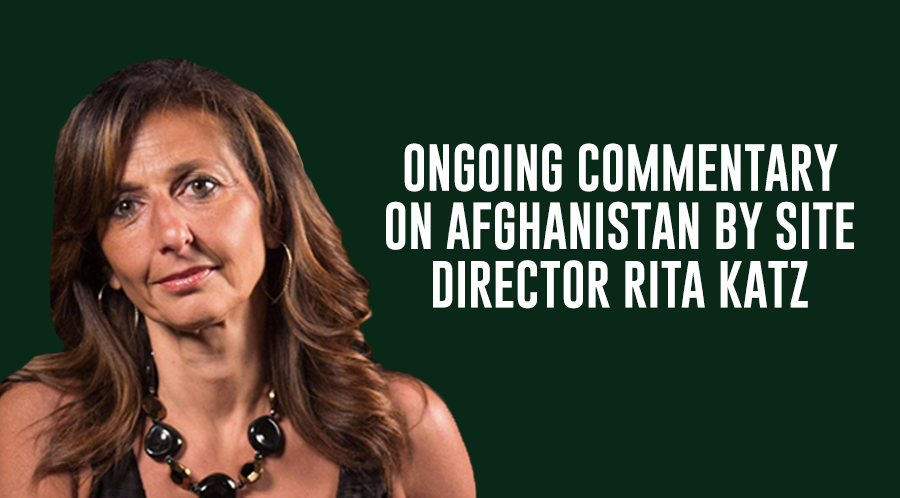 Amid the Taliban's takeover of Afghanistan, and the complexities that have arisen in the jihadi community as a result, Executive Director of SITE Intelligence Group Rita Katz is providing insights to media organizations and direct to her followers on Twitter.
Primary Twitter thread dedicated to situation in Afghanistan. To view the entire thread, click below or here:
1) The Taliban's takeover of Afghanistan is the most significant boost to al-Qaeda since 9/11 and a triumph for the global jihadist movement. Jihadists' exuberant responses (which I will sample in this thread) are critical signals for what's to come in the fight against terror. pic.twitter.com/4aHqDklC1f

— Rita Katz (@Rita_Katz) August 16, 2021
Selected articles with insights from SITE Executive Director Rita Katz:
Aug 17 - LA Times: For the Taliban, a victory. For other jihadis, an inspiration
Whether it's Al Qaeda affiliates in Mali and Somalia, extremist factions operating in Iraq, Syria and Yemen, or so-called keyboard warriors cheering on from their homes in the West, the Taliban's victory over Afghanistan's Western-created government "is the most significant boost to the global jihadist movement since Sept. 11," said Rita Katz, the founder of SITE Intelligence, an extremist monitoring group.
Aug. 18 - Washington Post: Today's Taliban uses sophisticated social media practices that rarely violate the rules
"The Taliban of today is immensely savvy with technology and social media — nothing like the group it was 20 years ago," said Rita Katz, executive director of SITE Intelligence Group, which monitors online extremism.
"The Taliban is clearly threading the needle regarding social media content policies and is not yet crossing the very distinct policy-violating lines that Trump crossed," Katz said.
Katz cautioned, however, that "this doesn't mean at all that the Taliban shouldn't be removed from social media, because the waves of propaganda and messaging it is spreading — permissible as it may seem by some content policy standards — is fueling a newly emboldened and extremely dangerous global Islamist militant movement."
Aug. 20 - Washington Post: Taliban websites operating in five languages go dark
"The proliferation of the Taliban's online infrastructure, regardless of whether it officially meets some companies' criteria for content moderation, is significantly contributing to the empowerment of global violent extremists," said Rita Katz, executive director of SITE. "In short: Cutting off Taliban's online media is definitely a good thing."
Aug. 20 – Associated Press: Official Taliban websites go offline, though reasons unknown
Also Friday, the popular encrypted messaging service WhatsApp removed a number of Taliban groups, according to Rita Katz, director of SITE Intelligence Group, which tracks online extremism.
Katz said via email that she hoped the removal of the Taliban websites is just a first step to diminishing its online presence.
Unlike the Taliban of 20 years ago that the U.S. drove from power in Afghanistan, today's Taliban is immensely media savvy and its online infrastructure "inspires and mobilizes" al-Qaida and other extremist Islamist factions, said Katz.
Aug. 23 – The New Yorker: Afghanistan, Again, Becomes a Cradle for Jihadism—and Al Qaeda
The Taliban takeover is the biggest boost to Al Qaeda since 9/11 and a global game changer for jihadism generally, Rita Katz, the executive director of the Site Intelligence Group, a leading tracker of extremist activity worldwide, told me. There is a "universal recognition" that Al Qaeda can now "reinvest" in Afghanistan as a safe haven, Katz said. Jihadism effectively has a new homeland, the first since the collapse of the ISIS caliphate in March, 2019. "It foreshadows a new future that sadly couldn't have been further from what we would hope for after twenty years of war," she said. It's a boon for Al Qaeda and its franchises, which now stretch from Burkina Faso in West Africa to Bangladesh in South Asia. "Militants from across the world—whether they be regionally focused Islamists or globally focused jihadists—will surely seek to enter Afghanistan's porous borders," Katz added.
Since the Taliban takeover, Al Qaeda has bragged that its calculus worked, unlike isis's, according to Soufan and the Site Intelligence Group. Al Qaeda in the Arabian Peninsula, based largely in Yemen, heralded the "beginning of a pivotal transformation" worldwide. In North Africa, Al Qaeda in the Islamic Maghreb celebrated the rapid sweep of Taliban military victories as proof that violent jihadist struggle is "the only way to restore the Ummah's glory." ("Ummah" is the Arabic term for the global Muslim community.) The Taliban victory has also breathed new life into groups far afield, including some of Al Qaeda's rivals. "The Taliban's victory is a story that can be bent to energize and justify any jihad or Islamist uprising, no matter how many years of bloodshed it may bring," Katz told me.