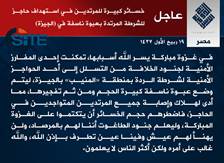 The Islamic State (IS) claimed the bombing of an Egyptian police checkpoint in Giza one day after killing an Egyptian army officer and his driver in Cairo. In a communique distributed on Twitter and Telegram on December 31, 2015, the group reported that a "security detachment entered a police checkpoint and planted and later detonated a large improvised explosive device (IED), killing and wounding all who were inside. While Egyptian media reported that security forces discovered and detonated the IED outside the checkpoint, the IS claimed that the "blessed invasion" was concealed due to the extent of losses.
Following is a translation of the message:
Islamic State
Egypt
Urgent: Large Losses to the Apostates in the Targeting of an Apostate Police Checkpoint with an Explosive Device in Giza
19 Rabie al-Awwal 1437 [31 December 2015]
In a blessed invasion for which Allah facilitated its causes, one of the security detachments of the soldiers of the Caliphate was able to infiltrate into one of the security checkpoints of the apostate police in the area of al-Munib in Giza, and plant a large size explosive device and detonate it, which led to eliminating and wounding all of the apostates in the checkpoint. They were forced to conceal the blessed invasion due to the extent of the losses. Let the soldiers of the tyrant know that we are lying in wait for them, and they will not enjoy life as long as we have a blinking eye, Allah permitting.
"And Allah has full power and control over His Affairs, but most of men know not". [From Yusuf: 21]