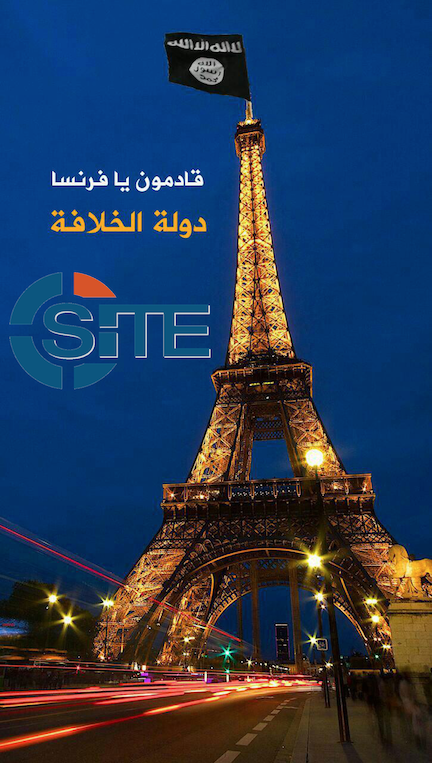 Jihadist-affiliated Twitter accounts celebrated the November 13, 2015 terrorist attacks in Paris, France, and speculated which jihadi group might be behind them. Many users expressed the belief that IS was behind the attack.
Jihadi supporters celebrated the attack with Arabic-language hashtags translating to "#Paris_On_Fire," as well as the more widely used hashtag "#FranceUnderAttack." Islamic State (IS) supporters, in particular, used Arabic hashtags translating to "#Caliphate_State_Strikes_France" and "#Crusader_France_OnFire."
A Twitter account translating to "Graddaughter Omar Al Farouk" threatened in Arabic:
Paris is burning and soon, Allah permitting all the land will burn, we swear by He Who made swearing lawful, we will let you taste the bitterness, #Paris_Howls
User "The Kuwati Radical" tweeted:

He also threatened:

One user provided a particularly vulgar response to the attacks, tweeting:
The user also stated: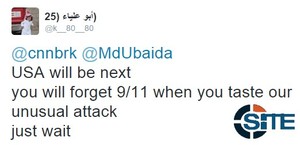 Accounts also circulated pictures celebrating the attacks, including some made by a pro-IS media group, al-Samood. One such image contained the following message in French and Arabic:
O French:
Same as you kill you are killed and we have promised you of that we will move the battles to your own homes, and then you may taste our severity

The pro-IS Dabiq Telegram channel, among those to forward the aforementioned image, also posted the statement:
France sends its aircraft to Syria,on a daily basis, bombing in Syria, killing children and seniors,, today it drinks from the same cup.
A possible motive was speculated by the pro-al-Qaeda (AQ) Twitter account of "Abu Marwan Al Tunsi." He stated:
France attacks ISIS oil fields over past two weeks and #ISIS retaliates against #France tonight #Paris attacked by multiple bombers/shooters
Additionally, other terrorist groups have been considered by jihadists. User "Abu Saeed Al-Halabi," a fighter for Syrian AQ affiliate the Nusra Front (NF), tweeted:

He followed up: