The 
Dark Web and Cyber Security Threat
 service monitors and analyzes hacking campaigns and groups across all ideologies (or lack thereof)—from those soliciting stolen data on the dark web, jihadist-motivated hacking groups, and everywhere in between. Contact

[email protected]

 or call us toll free 1-800-680-2326.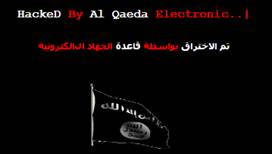 As part of what it called "Foray Britain," the pro-al-Qaeda hacking group "Al-Qaeda Electronic" claimed defacing 22 British websites.