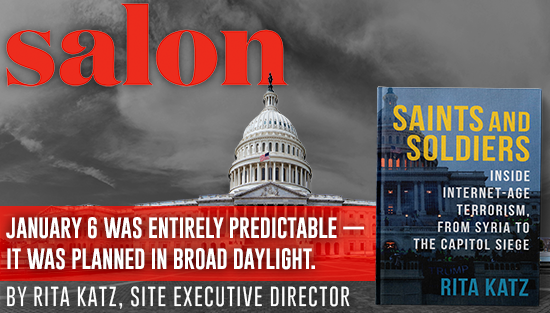 Everyone knows how the day unfolded: Trump's speech in which he urged "if you don't fight like Hell, you're not going to have a country anymore." Swarms of incensed rioters at the Capitol, police officers and rioters killed and injured, and so many other details of that day that will remain etched in the memory of those who lived through it. It was the ultimate, real-life manifestation of the Far Right 2.0's uninterrupted online activity, with each corner of the movement represented in some way or another as they converged in D.C. There were shirts, flags and hats with QAnon mantras like "Trust the Plan" and emblems of militia movements like the Three Percenters and the Oath Keepers. There were Confederate flags and rope nooses. Inside the Capitol building, a man with a shirt reading "CAMP AUSCHWITZ…WORK BRINGS FREEDOM" stormed through the halls beside another individual in a TRUMP 2020 hat, helping hold up a broken piece of a nameplate reading, "SPEAKER OF THE HOUSE NANCY PELOSI."
And with the United States still sifting through the rubble of that day, we watched the same maddeningly familiar script play out once more.
Many unanswered questions about the January 6 Capitol siege remain: Why were the Capitol Police so severely unprepared? Why was the National Guard so delayed in being deployed?